Apple Fitness+: What's NEW?! June, 2021
Apple Fitness+: What's New – June, 2021
As promised by Apple at the WWDC keynote on June 7, 2021, new workout options for Apple Fitness+ are being rolled out today, June 28th. We have come to expect that Apple is highly committed to health and fitness on the Apple Watch, and they continue to stand by their commitment.
Apple has already committed to adding new health and fitness features in WatchOS 8 and iOS 15 when they are released in the fall.
New Workout Options
The new Artist Spotlight series presents four new workouts where the entire playlist features hits from a single legendary artist.
There are seven new workouts in the Guest Trainer Series featuring Hollywood celebrity trainer Jeanette Jenkins.
A new season of Time to Walk episodes has been announced, and the first episode was released today.
Artist Spotlight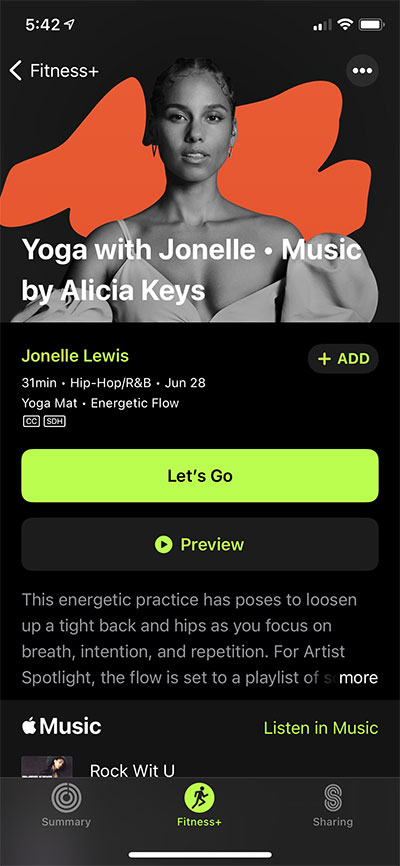 The Artist Spotlight series brings you workouts with music from legendary artists Lady Gaga, Jennifer Lopez, Keith Urban and Alicia Keys.
In each Artist Spotlight workout, the whole playlist contains tracks from a single artist. You'll find these workouts in a special Artist Spotlight section of Fitness+.
Besides the initial four workouts that are already available in Apple Fitness+, there will be new workouts for each of these artists over the next three weeks. Apple has not said what will happen after that.
New Time to Walk Guests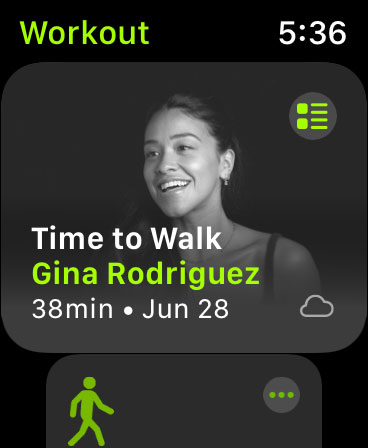 Time to Walk is back with a new season of inspiring guests, with their own stories, and songs that they have personally picked. The first episode features Golden Globe winner Gina Rodriguez, from Jane the Virgin, and is already available in Fitness+.
Other guest for this season include:
Sanjay Gupta – CNN's chief Medical Correspondent
Randall Park – Comedian and actor from Fresh Off the Boat
Michaela Jae (MJ) Rodriguez – Actress and singer in the award winning TV series, Pose
Anthony Joshua – Olympic Gold Medal Boxer and Heavyweight Champion of the World
Joan Benoit Samuelson – Olympic Gold Medal Marathon Runner
Cynthia Erivo – Grammy, Emmy and Tony Award-winning actress and singer
Marsai Martin – Award winning actress from the show Black-ish
Naomi Campbell – Supermodel, actress and businesswoman
Stephen Fry – Actor, comedian and writer
Guest Trainer Series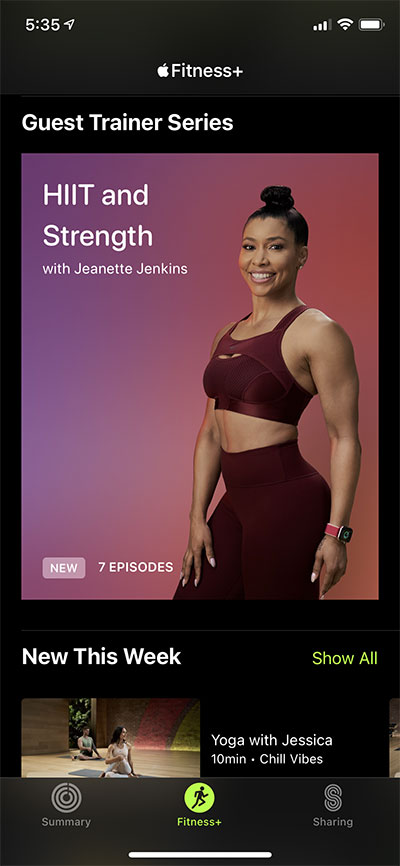 Jeannette Jenkins, known as The Hollywood Trainer has joined the Fitness+ team as part of the Guest Trainer Series. As of today, seven new 20 minute workouts led by Jeanette Jenkins are available in Apple Fitness+.
Four of them are Strength workouts (two total body, one upper body and one lower body), and three are HIIT workouts that require no equipment – just a mat. You can find these new workouts in the Guest Trainer Series section of Apple Fitness+.
While Apple hasn't said anything about this, perhaps the addition of this section is an indication that there will be additional Guest Trainers in the future.
Apple Fitness+ – Give it a Try
Apple continues to show their commitment to health and fitness by continuing to add features and new workouts to Fitness+. Apple has been adding new workouts each week, and there are now more than 900 workouts available in Apple Fitness+.
Apple has added a new season of Time to Walk, as well as the new Artist Spotlights and Guest Trainer Series sections. You've got nothing to lose. Anyone who owns an Apple Watch gets a one month free trial. If you recently purchased a new Apple Watch, you'll get a three month free trial.
Learn How to Use Apple Fitness+ on your TV
Apple has recently added support for Fitness+ using AirPlay 2. This allows you to view Fitness+ workouts on most TVs and you're no longer limited to using Apple TV to view your workouts on a large screen TV. To find out how to do this, see: Apple Fitness+: How Can I Use it On My TV?
Products mentioned in this post
Products that you may be interested in
Please note that this page contains affiliate links. This means that if you purchase from some of these links, we will receive a small commission from the sale at no extra cost to you.