Outdoor Walk: Now Easier to Close Exercise Ring!
My Exercise Ring Doesn't Move When I Walk!
Did you ever walk for an hour with your Apple Watch, and get only four minutes of exercise on your Exercise Ring? For many years, people have been complaining that their Exercise Ring isn't closing when they do an Outdoor Walk workout.
It's Fixed in WatchOS 8!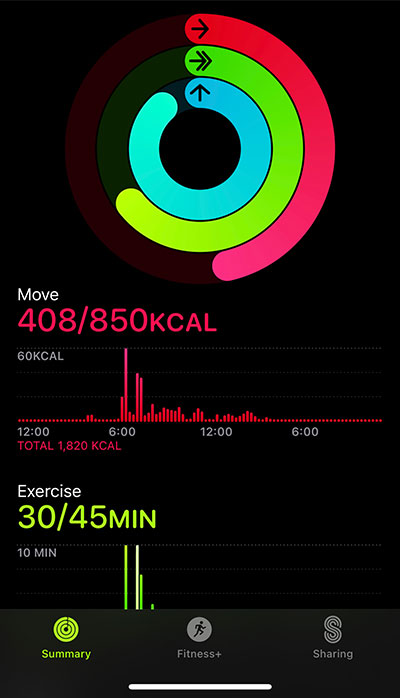 BIG NEWS!!!! It seems that Apple has fixed this in WatchOS 8. I discovered this by accident, after I pulled both of my calf muscles. As a result, I was only able to walk slowly. I did an Outdoor Walk workout on my Apple Watch, and saw that I got exercise credit for the whole walk.
I did several more slow walks, and sure enough, I'm getting much more Exercise Ring credit than I have gotten in the past. I'm even getting some Exercise Ring credit when I walk my dog, and put on an Outdoor Walk.
It seems that Apple is listening to all of those who have brought this issue to their attention, and had to use Other workouts, or different 3rd party workout apps so that they would get exercise credit for their outdoor walks.
Outdoor Walk Workouts in the Workout App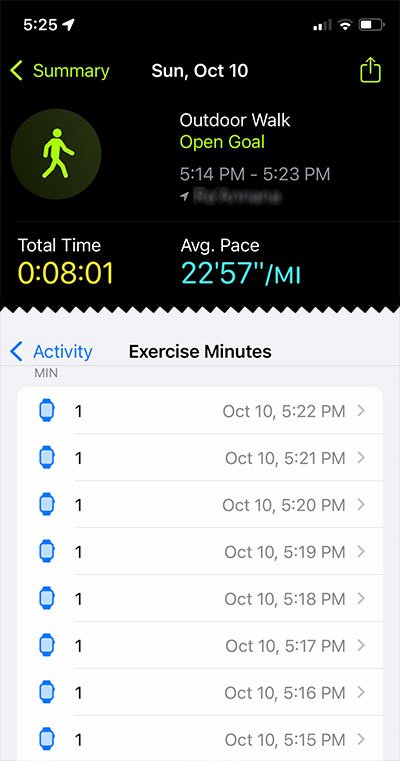 Apple has been fine tuning their algorithms for analyzing different types of workouts (Core Training, Functional Strength Training, Pilates, Tai Chi, Yoga) in the Workout app, but lots of people were having issues with Outdoor Walks. It seems that they have finally gone back to the drawing board, and updated the algorithm for Outdoor Walks so that you'll get credit on the Exercise Ring for Outdoor Walk workouts, even when you're not walking at a fast pace.
Previously, I needed to walk at a pace of 17'30" / MI (11'0" / Km) or faster in order to get Exercise minutes for my walk. Now I can walk much slower, and still get exercise credit.
I did an 8 minute walk at a pace of 22'57" / MI (14'15" / KM) and I got exercise credit for all 8 minutes. In the past, I never got exercise credit when walking that slowly.
What's the bottom line?
First, you must make sure that your Apple Watch is updated to WatchOS 8 and your iPhone to iOS 15. If you don't do that, then nothing will change.
If you've been doing Other workouts or using a 3rd party workout app so that you'll get full exercise credit for your outdoor walks, try doing a few Outdoor Walk workouts in the Workout app. See if you're getting full credit on your Exercise Ring for all the minutes of your walk.
If you are – then your problem is fixed and you should continue to do Outdoor Walk workouts. If you're still not getting credit, then continue what you were doing before. Hopefully this will be fixed for most people who want to use the Workout app.
Products that you may be interested in
Please note that this page contains affiliate links. This means that if you purchase from some of these links, we will receive a small commission from the sale at no extra cost to you.