Apple Watch Series 6 and SE – Health and Fitness Features
Apple Special Event September 15, 2020
Today, September 15, 2020, Apple announced two new Apple Watch models – the Apple Watch Series 6 and the Apple Watch SE. Both new models can be ordered today and start shipping this Friday, September 18th.
WatchOS 7 and iOS 14 will be available for download tomorrow – September 16th.
With these new watch models as well as new features in WatchOS 7 and iOS 14, Apple continues to strengthen its commitment to health and fitness by encouraging Apple Watch users "to be more active, stay connected, and better manage their health in new ways".
The Apple Watch Series 6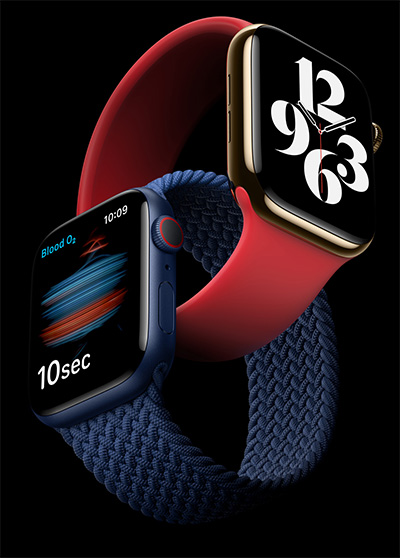 The following new health and fitness features have been added:
Blood Oxygen Saturation (SpO2) Sensor
Faster Processor
Brighter Display – with better outdoor visibility in wrist down mode
Always-on Altimeter
Fast Charging – Full charge in 1.5 hours
Improved battery life for certain workouts
The Apple Watch SE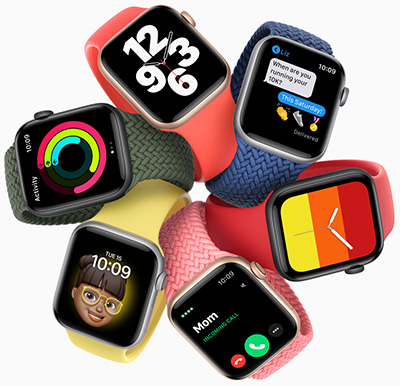 The Apple Watch SE is a new low cost Apple Watch that starts at $279. It is very similar to the Apple Watch Series 6, but does not have the ECG, SpO2 Sensor, always-on display and fast charging. It's speed is like the Series 5, so it's about 20% slower than the Series 6.
It does include the always-on altimeter, fall detection, international emergency calling and built-in compass.
You can think of the Apple Watch Series 6 as a Series 5 on steroids, and the Apple Watch SE as a Series 5 on a diet.
Apple Watch Series 6 New Features
The Series 6 price starts at $399 for GPS and $499 for GPS + Cellular. It is offered with new Blue and Red Aluminum cases in addition to Silver, Gray and Gold. Like the Series 5, it is also offered in Stainless Steel and Titanium. The Ceramic model is no longer offered.
Blood Oxygen (SpO2) Sensor & App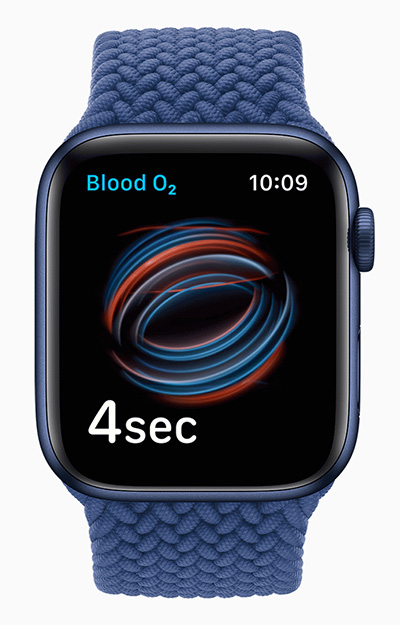 This new feature measures the oxygen saturation of the wearer's blood, allowing them to better understand their overall health and fitness. This is done with new sensors that have been added on the back of the Apple Watch, and is not supported on any other Apple Watch models.
Faster Processor
The Apple Watch Series 6 uses the new S6 processor that runs up to 20% faster than the S5 processor that was used on the Series 5. Despite the faster performance, the Series 6 still maintains its 18-hour battery life.
Always-on Altimeter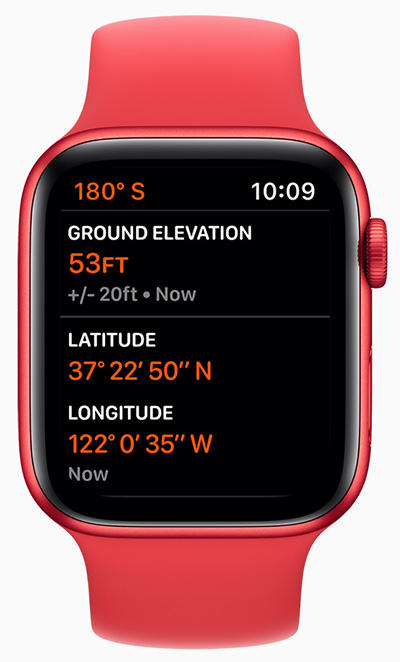 The new always-on altimeter tracks your elevation continuously throughout the day using a new power efficient barometric altimeter together with GPS and Wi-Fi networks. This allows the Apple Watch to detect small changes in elevation and display the elevation continuously.
The elevation can be shown as a complication on your watch face, or on the display of the Workout app.
Fast Charging – Full charge in 1.5 hours
The Series 6 provides faster charging. The watch can be charged to 80% in just an hour, and can be fully charged in 1.5 hours. This is very helpful for anyone who is using the new Sleep Tracking feature that was released in WatchOS 7, together with the new watch. You can now quickly top up the battery before going to sleep, or when you wake up in the morning.
Improved battery life for certain workouts
The battery life has been improved when tracking certain workouts such as indoor and outdoor runs. This is helpful for those who use their Apple Watch to track their workouts.
Increased Display Brightness
The Always-On Retina display on the Apple Watch Series 6 is up to 2.5 times brighter than the Apple Watch Series 5 when outdoors and the display is in dimmed mode. This makes it much easier to see the watch face in bright sunlight, and is very helpful when doing outdoor workouts.
Other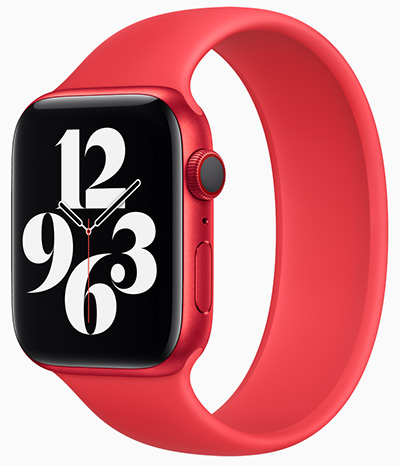 Apple has introduced several new watch bands together with the introduction of the Series 6. These new bands include the Solo Loop and Braided Solo Loop. These are made of stretchable silicon rubber and have no buckles or clasps. You just stretch them over your hand to put them on. There is also a new model of the Leather Link band.
The New Apple Watch SE
The Apple Watch SE is a new low cost Apple Watch. It looks like the Series 6, but it's missing some of the features. It's price starts at $279 for GPS and $329 for GPS + Cellular. It's offered only with the Aluminum case, in Silver, Gray and Gold. The SE is a great low cost way to start using an Apple Watch.
What's Included:
Fall Detection
Larger display size (same as Series 4 / 5 / 6 )
International Emergency Calling
Always-on Altimeter
Compass
What's not Included:
ECG
Always On Display
Brighter Display
Faster S6 Processor
Fast Charging
WatchOS 7
WatchOS 7 was announced in June, and at the time, several health and fitness features were announced:
Sleep Tracking
New Workout Types
Activity / Fitness App
Cycling Support in Maps
Face Sharing / Multiple Complications
Automatic Handwashing Detection
For a full description of these features see: New Health and Fitness Features in iOS 14 and WatchOS 7.
With the release of the Apple Watch Series 6 and SE, there were a few new features that were added to WatchOS 7 and iOS 14.
Family Setup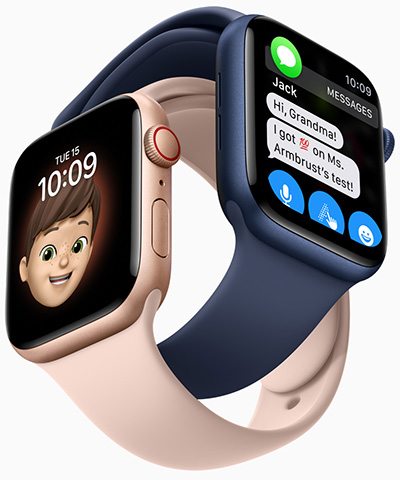 The new Family Setup feature allows you to set up multiple Apple Watches from one iPhone. This allows you to purchase Apple Watches for family members who don't have any iPhone. This can be for a child, or for an elderly family member. Their Apple Watches can be set up and controlled from your iPhone. 
When using an Apple Watch with Family Setup, your kids can personalize their watch without needing an iPhone. They can access Emergency SOS whenever needed, and they will have Activity Rings that are optimized for children. There's also a special Schooltime mode.
For older family members who want to take advantage of Family Setup, the process of setting up the Apple Watch and using it is simplified for them. There are watch faces like the X-Large fact that is perfect for those whose eyesight is declining.
New Watch Faces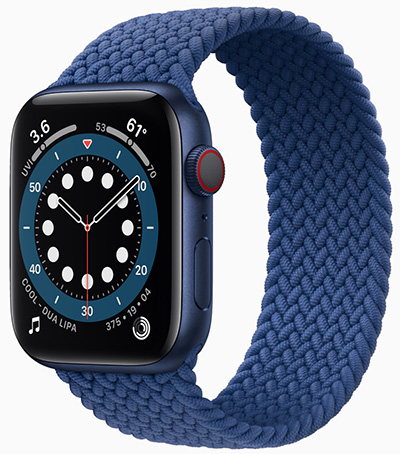 The following new watch faces are available in WatchOS 7:
GMT
Count Up
Chronograph Pro
Typograph
Artist
Memoji
Stripes
These new watch faces offer some fun new options and are available for the Apple Watch Series 4, Series 5, Series 6 and SE models. Try them out, and see what you like.
Fitness +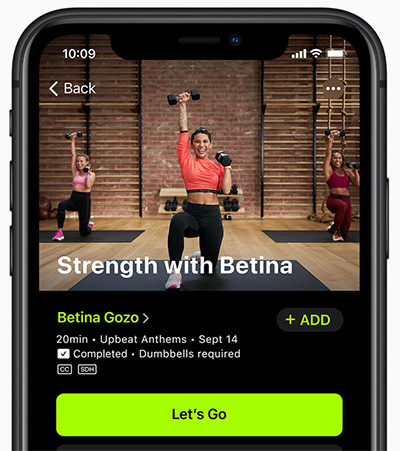 Apple's new Fitness + is powered by your Apple Watch and allows you to do great workouts wherever you want. You can do them on your iPhone, iPad or Apple TV.
Your workout is tracked on your Apple Watch, and all of the metrics are displayed on the watch and on the device that you are viewing the workout on.There are a wide variety of workouts that are offered that can be done at home or at the gym. There are workouts that don't require any equipment, and there are workouts that can be done with exercise machines or weights.
In Apple's Fitness+ you are getting world-class workouts led by top trainers from all over the world.
Fitness+ is a service that requires a monthly subscription and will be available at the end of 2020.
The World's Best Fitness Accessory is Getting Even Better
The Apple Watch has been called the world's best fitness accessory for a few years now. With the introduction of the Apple Watch 6, it's gotten even better. Apple continues to invest in the Apple Watch in order for it to remain the world's best fitness accessory.
With new hardware and software features added each year, the Apple Watch continues to lead the way in health and fitness. If you want to get healthier and more fit, there's no question that the Apple Watch is the way to go. The new Apple Watch Series 6 and Apple Watch SE are both great options.
Products that you may be interested in
Please note that this page contains affiliate links. This means that if you purchase from some of these links, we will receive a small commission from the sale at no extra cost to you.