Apple Announces: New Health and Fitness Features in iOS 14 and WatchOS 7
Apple Announces iOS 14 and WatchOS 7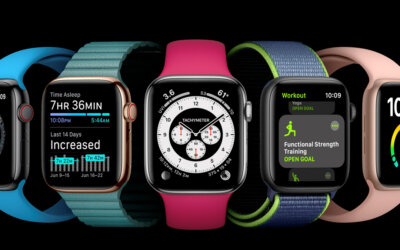 Today, June 22, 2020, Apple kicked off its first ever virtual WWDC (Worldwide Developers Conference). At the keynote speech, as they do every year, Apple announced the new versions of iOS and WatchOS, and provided an overview of iOS 14 and WatchOS 7. These new versions will be officially released in September when new versions of the iPhone and Apple Watch are released.
The Apple Watch continues to be the leader in wearable health and fitness devices.
"Apple Watch has become an intelligent guardian of your health, enabling you to take an ECG, detect your falls, and call emergency services for you. It's impacting lives in ways that were inconceivable five years ago." – Kevin Lynch, VP Technology, Apple
Among the many new features that were announced today, there were some expected and unexpected new health and fitness related features, including:
Sleep Tracking
New Workout Types
Activity / Fitness App
Cycling Support in Maps
Face Sharing / Multiple Complications
Automatic Handwashing Detection
Sleep Tracking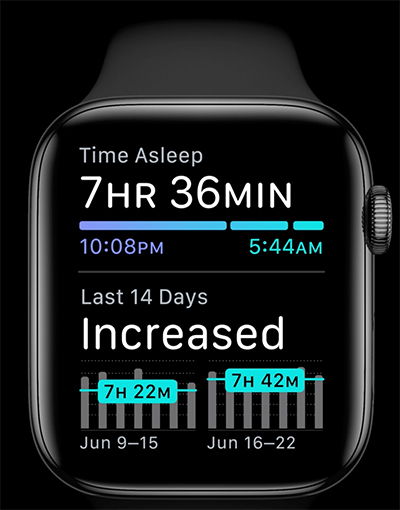 Apple is finally adding one of the most requested features to the Apple Watch – Sleep Tracking. Apple has chosen a more holistic approach to sleep tracking by choosing not only to track your sleep, but also to help you meet your sleep duration goal.
This is not just about when you wake up in the morning, but when you go to sleep. Getting to sleep on time is one of our biggest challenges. Sleep Tracking includes Wind Down support. This will help you get to bed on time by minimizing distractions and helping you create a personalized bedtime routine.
Before bedtime, your phone can show your Wind Down screen to help you do things you want to do before you go to sleep, like using your favorite meditation app, or listening to relaxing music.
When it's time for bed, your screen will dim, and your watch will go into sleep mode, turning on Do Not Disturb for you. The screen will be turned off, and a tap on it will display a simple face that shows you only the time.
Your watch will wake you up with gentle alarm sounds, or a taptic-only alert so you won't disturb your partner. When you wake up, your watch will show you a friendly greeting to ease you into your day. It will show your battery level so you can charge your watch if you need to.
Apple tracks your sleep using a machine learning model that senses your motion and even interprets the micro-movements caused by the rise and fall of your breath, in order to determine when you're awake and when you're asleep.
There's an updated Sleep section in the Health app including a view of your Sleep Trends over time. Sleep Schedules, Wind Down and Sleep Mode are available on the iPhone without an Apple Watch in iOS 14.
Now you'll not only enjoy using your Apple Watch throughout the day, but also throughout the night.
New Workout Types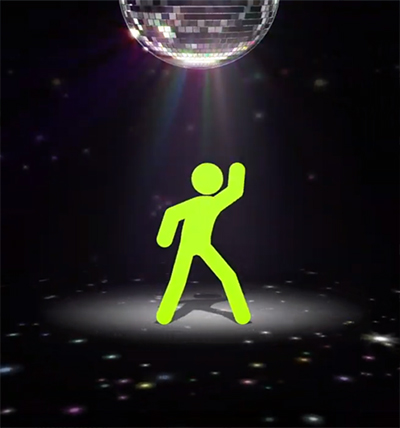 With each new version of WatchOS, Apple always adds support for new workouts in the Workout app. The new Dance workout uses advanced sensor fusion to calculate your calories burned based on your motion.
This was a very complex task. It combines data from the built-in accelerometer and gyroscope to detect if you're moving just your arms, just your lower body, or dancing with your entire body. It combines this motion information with your heart rate to accurately calculate the calories burned while working up a great sweat during a Dance Workout.
WatchOS 7 also adds more accurate calorie calculations for the Core Training and Functional Strength Training workouts. You can now add a Cool Down workout at the end of any workout, when you want to finish your workout with some easy moves and stretches as you bring your heart rate and breathing back to normal.
Activity App / Fitness App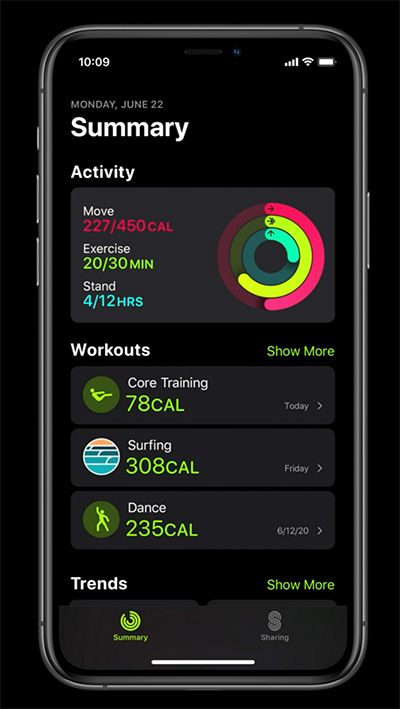 The Activity app on iOS 14 is completely redesigned, featuring a new Summary Tab that gives you an easy way to see your activity history, workouts and trends all in one seamless view. With a new focus on easy navigation and summary metrics, the app has been given a new name and is now called the Fitness app.
Cycling Support in Maps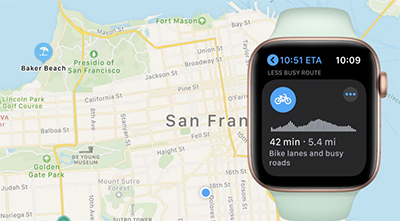 The Maps app in iOS 14 has been enhanced to support Cycling features within the Maps app on the iPhone. To go along with this, Cycling features have also been added to the Maps app on the Apple Watch.
The new Maps app on the Apple Watch can now show a variety of Cycling information, such as time, distance and the location of bike lanes. You can preview travel times and elevation and get turn by turn directions while you are cycling.
Face Sharing / Multiple Complications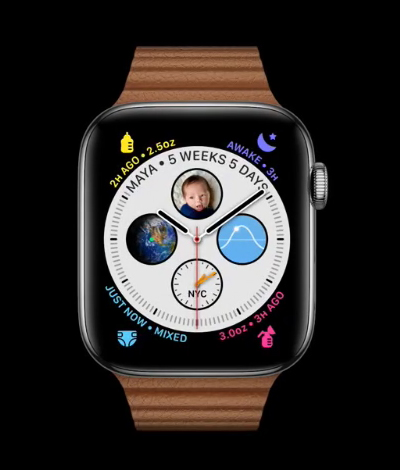 While watch faces are not really a health or fitness feature, having a variety of watch faces can definitely be used to enhance the use of your Apple Watch as a health and fitness accessory. In WatchOS 7, there are several significant enhancements in the area of watch faces that will be useful for health and fitness.
WatchOS 7 adds support for Face Sharing of watch faces. This means that you no longer need to create your own watch faces. You can download pre-configured watch faces from the App Store or from a website. When you see a watch face that you want, just click on it and it will be installed on your Apple Watch.
You can share any of your watch faces with your friends directly from your watch, or you can share them on social media.
If you install a watch face that uses one or more apps that you don't have on your Apple Watch, you will be given the opportunity to download the app as soon as you install the watch face on your Apple Watch.
In WatchOS 7 an app can have multiple complications on a single watch face. By supporting this feature, developers can create watch faces that are customized for the specific needs of that app, thus providing more richly personal watch faces for their apps. By using an app like Glow Baby, a parent can turn their watch face into a full blown baby care watch face with nap time, changing times and feed times all visible on one watch face.
Configuring watch faces has been redesigned so you can more easily configure your watch faces.
Automatic Handwashing Detection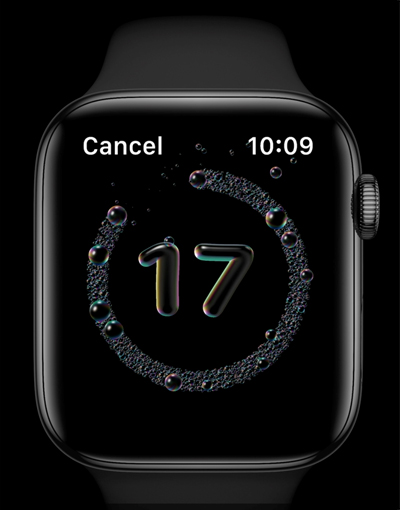 One new feature that wasn't expected, but is especially important now, is Automatic Handwashing Detection. The Apple Watch will detect when you start washing your hands, and will sense how long you actually wash.
Using machine learning, the Apple Watch detects motion that appears to be handwashing, and combines this with audio detection to confirm the sound of running water, or squishing soap on your hands. You will get audio and haptic feedback as well as a countdown to make sure that you wash your hands for as long as you're supposed to. If you stop too soon you are politely reminded to continue, and when you're done, you'll see, hear and feel it.
What's the Bottom Line?
Apple's powerful new health and fitness features that will be introduced in WatchOS 7 make the world's most advanced smartwatch even better than it was. These new features are being added to a rich set of health and fitness features that have already helped many people improve their health and fitness.
We're sure that these new features will help you take your health and fitness to the next level.
Products that you may be interested in
Please note that this page contains affiliate links. This means that if you purchase from some of these links, we will receive a small commission from the sale at no extra cost to you.