Apple Fitness+: Getting Started
What is Apple Fitness+?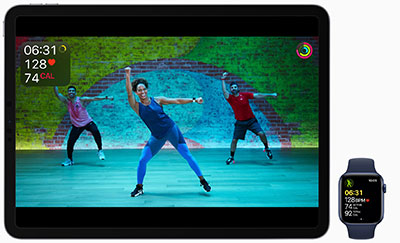 Apple Fitness+ offers a wide variety of personalized studio-style workouts that can be done anytime and anywhere.
Many of the workouts don't require any equipment, but for those who do have exercise equipment, there are workouts that can be done on treadmills, stationary bikes, rowing machines or with dumbbells.
How Much Does Fitness+ Cost?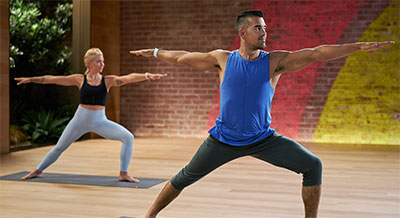 Apple Fitness+ is available for $9.99 / month or $79.99 per year ($6.66 / month), and can be shared among six family members.
Anyone who purchases a new Apple Watch (Series 3 or later) will receive three months of Apple Fitness+ for free. Existing Apple Watch owners get one free month of Apple Fitness+.
Apple Fitness+ is included as part of the new Apple One Premier plan which costs $29.95 per month and includes Apple Music, Apple TV+, Apple Arcade, Apple News+, and 2TB of iCloud storage, in addition to Apple Fitness+. The Apple One Premier plan can also be shared among six family members.
Device and OS Compatibility
In order to run Apple Fitness+, you'll need:
An iPhone 6S or later running iOS 14.3
An Apple Watch Series 3 or later running WatchOS 7.2
You can run Fitness+ on an iPad Air 2 or later that is running iOS 14.3, but you'll need to install the Fitness app from the App Store.
You can also run Fitness+ on the Apple TV 4K or Apple TV HD running iOS 14.3 or later.
Setting Up Apple Fitness+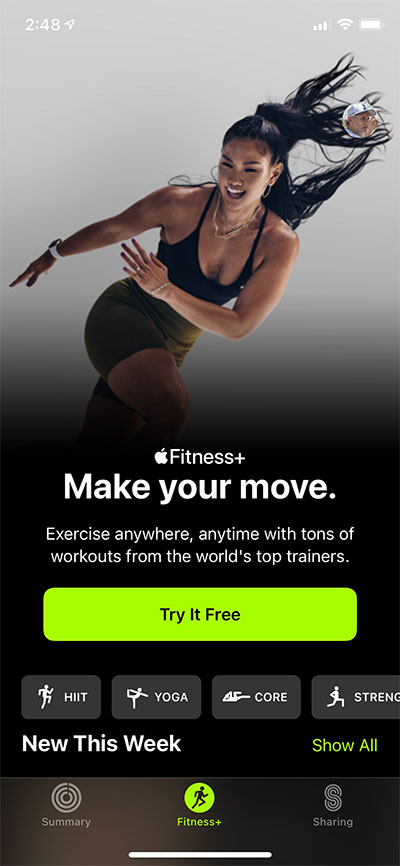 To sign up for Apple Fitness+ and set it up:
Run the Fitness app on your iPhone
Tap the Fitness+ tab at the bottom of the screen
You will be taken through a series of setup screens until you see a Try It Free button
Tap Try It Free and complete the process
Once you've set it up, you're ready to start using Apple Fitness+.
Run the Fitness app on your iPhone, and tap Fitness+ at the bottom of the screen. On the iPad or Apple TV just run the Fitness app.
From the Fitness+ home screen you can navigate by scrolling down to find the workout that you want to do.
This quick guide to Fitness+ will help you get started.
Getting Started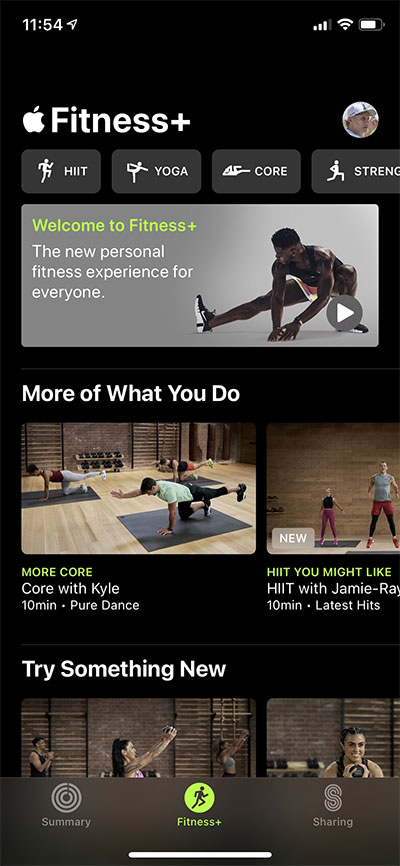 The following sections of the Fitness+ home screen can be accessed by scrolling down:
Workout Types
At the top of the screen you'll see the workout types. Swipe left to see additional types. Tap on any workout type, and choose a workout that you'd like to do.
Welcome to Fitness+
It's worthwhile to watch the Welcome to Fitness+ video. It gives you a one and a half minute introduction to Fitness+.
More of What You Do
In this section you'll find workouts that are suggested for you based on your workout history.
Try Something New
In this section you'll find suggestions of workouts that are similar to those that you've done in the past, but with different trainers.
New This Week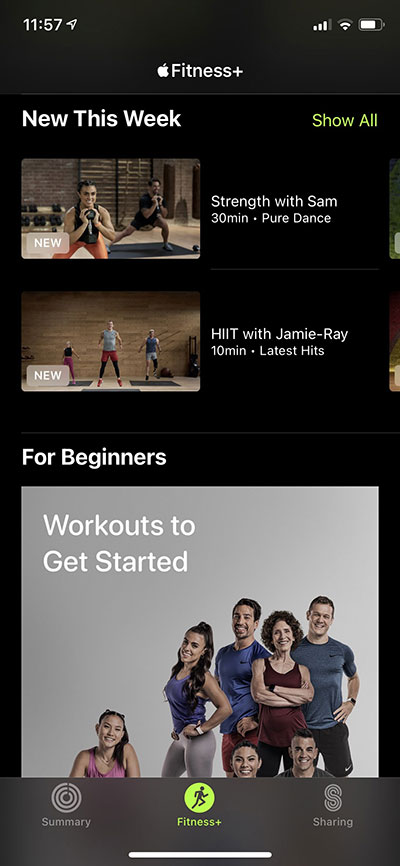 Each week Apple releases new workouts. In this section you'll find all the workouts that have been released since the beginning of the current week.
For Beginners
This a great place for, you guessed it – beginners. If you haven't done a lot of working out lately, tap on Workouts to Get Started. Start by watching the Workouts to Get Started video – it's only three minutes.
This section has four 10 minute workouts, followed by three 20 minute workouts. Do one or two of these a day, and when you finish them all, you'll be ready to choose your own workouts to continue with. If you're not ready for that, you can always do these again.
Holiday Cheer
Since it's now the holiday season, you'll see this section. These festive workouts will get you into the holiday mood. Give them a try.
Popular
The workouts in the section are the most popular ones that are being done. There are three workouts for each workout type. You won't go wrong if you choose one of these.
Trainers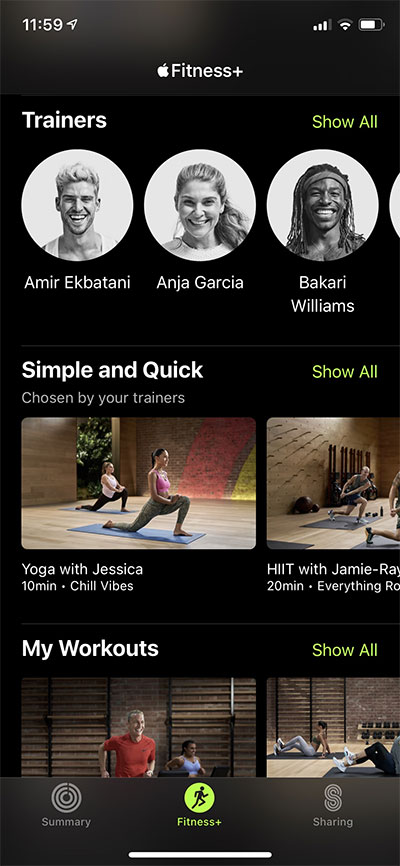 Do you have a favorite trainer? If you do – just choose your favorite one from the list, and you'll see all of their workouts. Your favorite trainer probably doesn't do all workout types, so you might not find the workout type that you're looking for when you select your favorite trainer.
Simple and Quick
The simple and quick workouts have been chosen by the trainers. They are 10 or 20 minutes long, and are workouts that can be done by anyone at any level of fitness.
My Workouts
When you view any workout, you'll see the +ADD button. Tap this button to add this workout to My Workouts. This makes it easy to find your favorite workouts. You cannot see the My Workouts section on AppleTV.
Any Workouts that have been saved to My Workouts can be downloaded so that you can have access to them when you are not connected to the Internet. You can view them by tapping Downloaded Workouts at the end of the My Workouts section.
My personal experience using Apple Fitness+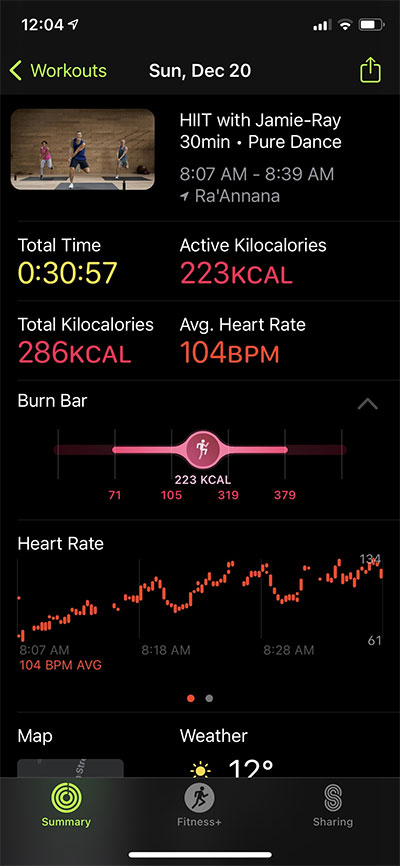 I started my one month free trial shortly after Apple released Fitness+. I've been doing one or more Fitness+ workouts a day.
For the last nine months I've been doing all of my workouts at home. I'm lucky that I have an elliptical machine, a treadmill, some dumbbells and some kettlebells. My Yoga studio is closed, so I've been doing yoga on Zoom.
Doing the Fitness+ workouts has been a nice change for me. I've been doing a lot of HIIT, some Strength Training, and I'm also trying to focus on Core Workouts – these are definitely needed. I've tried a couple of Treadmill and Yoga workouts as well.
It's always great to change up your exercise routine. Many of the Fitness+ workouts require a lot of movement and agility. This is really a welcome change for me, and I'm feeling it – in good ways and bad. I am discovering some sore muscles, but it's the good kind of sore.
The Bottom Line
You've got nothing to lose. Anyone who owns an Apple Watch gets a one month free trial. If you recently purchased a new Apple Watch, you'll get a three month free trial.
Once my free month is over, I'll be signing up – probably for the yearly program. It seems like a no brainer at $79.99 a year, which is only $6.66 a month. These types of workouts are definitely something that I want to add to my repertoire, and this is a great way to do it.
To learn more about Fitness+, check out: Apple Fitness+: All You Need to Know
Products that you may be interested in
Please note that this page contains affiliate links. This means that if you purchase from some of these links, we will receive a small commission from the sale at no extra cost to you.