The New AirPods Pro With Noise Cancellation
Introducing the AirPods Pro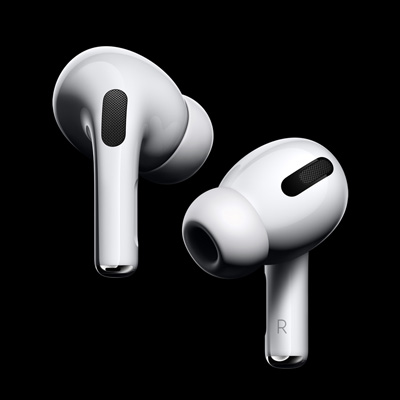 Apple has just launched the new AirPods Pro featuring Active Noise Cancellation and superior sound. They can be ordered immediately and will be available on October 30, 2019.
The AirPods Pro will take your workouts to a new level with water-resistance, noise cancellation, better in-ear fit, and improved sound quality.
The cost of the new AirPods Pro is $249 and includes a wireless charging case. This is only $50 more than the AirPods with wireless charging case at $199, and $90 more than the AirPods with a non-wireless charging case that cost $159.
Here are the main features that AirPods Pro have to offer:
In-ear Design
The all-new lightweight in-ear design comes with three different sizes of soft, flexible silicone ear tips that conform to each individual ear. This assures a comfortable fit and a good seal which is a critical factor in delivering immersive sound.
A simple software audio test helps you know if you've chosen the right-sized tip by measuring the in-ear sound level and comparing it to what is coming from the speaker.
Active Noise Cancellation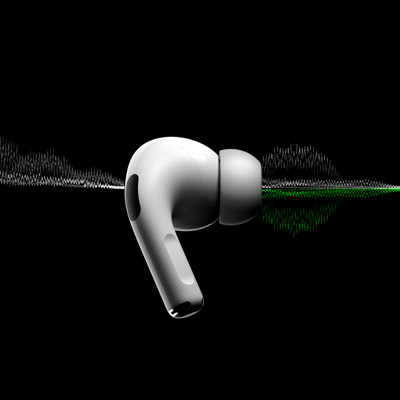 There are two microphones built into the AirPods Pro that detect and then cancel out background noise.
Transparency Mode
The AirPods Pro provide the user with a Transparency Mode which allows users to hear surrounding noise as needed. It's simple to switch between Active Noise Cancellation and Transparency modes.
Immersive Sound
Apple promises amazing audio quality with the AirPod Pro's new feature, "Adaptive EQ" which automatically tunes music to the shape of the user's ear.
Performance and Battery Life
AirPods Pro feature the same great battery life as AirPods with up to five hours of listening time. With Active Noise Cancellation on, AirPods Pro deliver up to four and a half hours of listening time and up to three and a half hours of talk time on a single charge. With the Wireless Charging Case, AirPods Pro deliver over 24 hours of listening time or over 18 hours of talk time.
Great for Working Out
These features make the AirPods Pro ideal for using while you work out:
Sweat and water-resistant AirPods Pro are perfect for your active lifestyle.
Noise cancellation will help you block out any external noise while you focus on your fitness goals in an immersive audio experience.
In-ear Design provides a more secure and comfortable fit when working out.
Voice-activated Siri enables hands-free functionality such as commands to play a song, increase the volume, make a call or get directions.
Audio Sharing allows you to listen to the same song or watch the same workout video with a friend by simply bringing a second pair of AirPods close to your iPhone.
Announce Messages automatically and conveniently speaks incoming messages as soon as they arrive.
Is it worthwhile to upgrade to the AirPods Pro?
This is a very personal choice. Apple provides a variety of truly wireless earbuds (AirPods and Powerbeats pro). Each option has its price and feature set. They all provide a great user experience, excellent battery life, and good sound quality. Depending on your budget and audio needs, you can choose the ones that are right for you.
AirPods Pro (Wireless Charging Case)
Price: $249
Listening time: 4.5-5 hours
Water and Sweat resistant
Excellent audio quality
Noise Cancellation
AirPods with Wireless Charging Case
Price: $199
Listening time: 5 hours
Powerbeats Pro (Non-Wireless Charging Case)
Price: $199
Listening time: 9 hours
Water and Sweat resistant
Excellent audio quality
AirPods with (Non-Wireless) Charging Case
Price: $159
Listening time: 5 hours
Products mentioned in this blog post
Please note that this page contains affiliate links. This means that if you purchase from some of these links, we will receive a small commission from the sale at no extra cost to you.