The Calm Meditation App on the iPhone Changed My Life
Life Can be Stressful as Heck and a Meditation App Can Help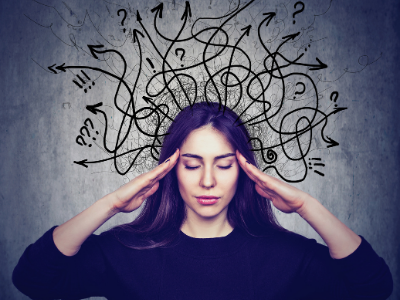 Whether it's the COVID-19 pandemic blues or daily worries, we all experience stress in life.
Practicing meditation is an excellent way to relax, cope with stress and develop focus. Research shows that meditation can give a sense of calm, sharpen memory, elevate mood, promote more restful sleep, develop self-discipline and even improve overall health.
Many of us love our Apple Watch and iPhone. But, let's face it – this technology can be used as an obsessive distraction or as a tool to help us lower anxiety levels and learn relaxation techniques.
The Breathe App, built into the Apple Watch, reminds us to slow down and just breathe in the middle of a hectic day which can reduce stress. But, if you want to increase calmness, concentration, awareness, and emotional balance, then try meditation.
Which Meditation App Do I Use?
I learned that the two most popular meditation apps are Headspace and Calm.
Headspace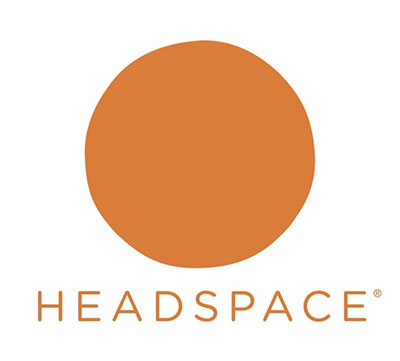 Free to download
$12.99/month for a monthly subscription, 1 week free trial
$69.99/year for an annual subscription, 2 weeks free trial
Download Headspace in the App store
First, I checked Headspace by using their free trial. Please note: If you use the free trial but do not wish to continue using the app then you must cancel before the end of the free trial or it will automatically convert to a paid subscription.
Andy Puddicombe, the former Tibetan Buddhist monk is the voice of Headspace. I did not connect to his voice and found his British accent to be distracting for me. Finding a voice that puts you "in the zone" is a personal preference. So, I continued my search for the right meditation app with a voice that would be more conducive for me to relax with.
Calm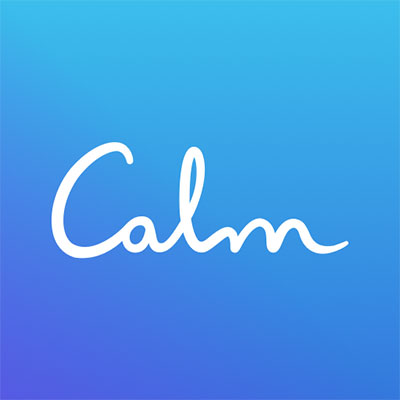 Free to download
$12.99/month or $59.99/year, 1 week free trial
$299.99 for a Lifetime subscription
Download Calm in the App Store
After trying Headspace, I tried the free version of Calm and I loved it! This is why I want to share my experience using Calm with you. It has helped me learn how to sit in a quiet space with my eyes closed, focus on my breath and find some much needed inner peace!
Please note: The free trial automatically carries over into an annual premium subscription unless it is cancelled prior to the end of the trial period. 
Calm is more than just a meditation app that is designed for beginners. Calm offers a whole range of relaxing audio experiences: Meditation sessions, Sleep Stories, Music, Soundscapes, Calm Masterclasses as well as podcast-like mini interviews called The Spark. There is also a section called Calm Kids with a selection of Sleep Stories, Meditations, Lullabies and Soundscapes that are geared specifically for children.
Meditate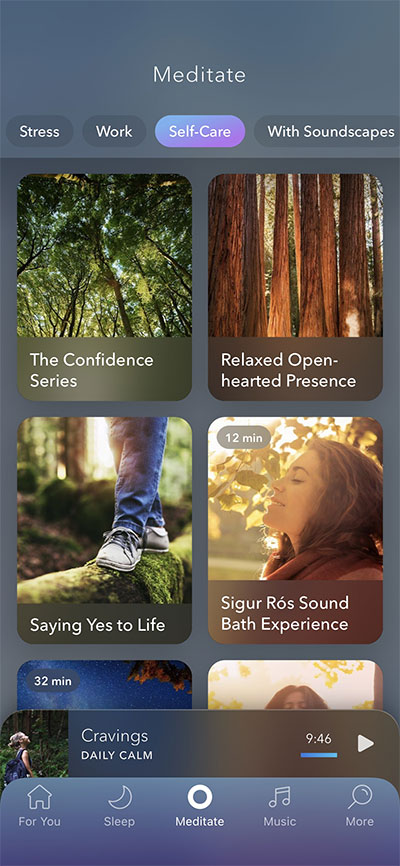 There are hundreds of meditation sessions of various lengths. You can pick music or nature sounds to play in the background of your meditation session. These are called Scenes and include "Rain on Leaves", "Tropical Beach" or "Celestial Sunbeams". My personal favorites are "Moving Cloudbreak", "Falling Snowflakes" and "Snowflakes in Moonlight".
Some meditations are a series of related sessions on a specific topic, such as "7 Days of Happiness", "7 Days of Calming Anxiety" or "How to Meditate" which is a 30-day program which teaches beginners how to meditate. Other meditations are stand alone sessions. All of them are conducive to deep meditation.
I enjoy using Calm daily, mostly to meditate at least 10-20 minutes each morning. Although many people seem to appreciate Tamara Levitt who is the voice of most of the meditations and many of the sleep stories, I personally do not enjoy meditating with her voice guiding me.
My favorite meditation teachers in the app are Jeff Warren, Tara Brach and John Armstrong. Calm provides so many voice options to choose from which is an advantage it has over many other meditation apps.
Sleep Stories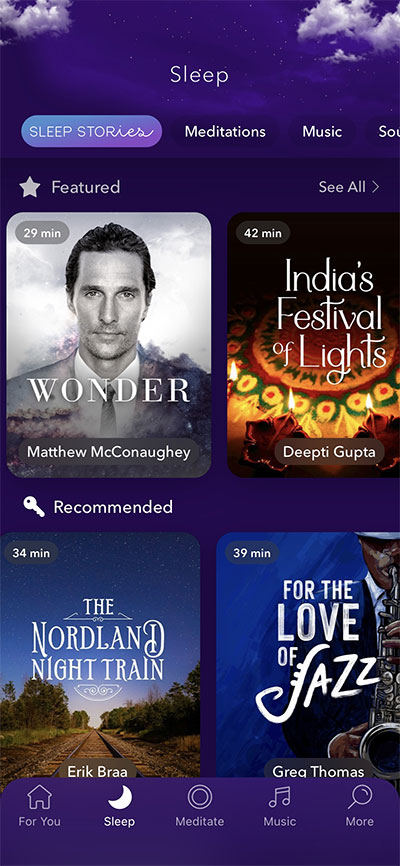 Calm offers a whole range of relaxing audio experiences that lower stress and help improve sleep. There is a feature called Sleep Stories which are basically bedtime stories for adults that are meant to lull you to sleep. And let me tell you, they really work! I have been lulled back to sleep by Calm's Sleep Stories on many nights.
There are guest storytellers who are so soothing and fun to listen to such as Matthew McConaughey, Harry Styles, Eva Green or Mandy Moore. There are recordings by the YouTuber, The French Whisperer, as well as adaptations of Bob Ross's "The Joy of Painting".
Music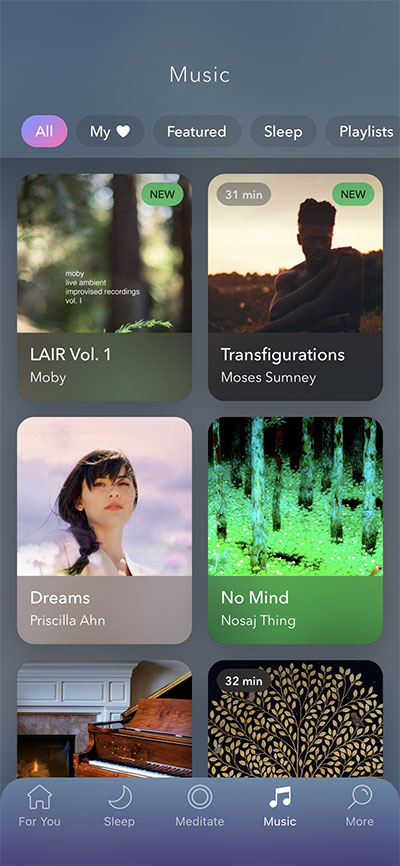 Calm offers a collection of music and soundscapes to choose from including nature sounds, lullabies, music to work by, sleep by, or drink your morning coffee by. If you prefer to meditate or do yoga without voice instruction then there are many options of calming music to choose from. There are numerous playlists and new music is added on a regular basis.
Although I have been using the music feature infrequently, I recommend listening to the "Sleep Story Melodies" that are the background music of the Sleep Stories without the voice-over. I have found this to be good wind-down music to listen to before bedtime.
The Spark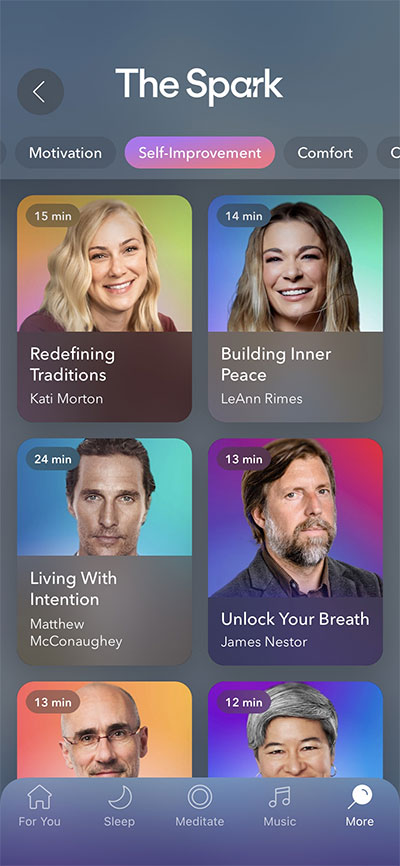 There is a section called The Spark which is a collection of bite-sized inspirational conversations, each is about 10-15 minutes long, on all sorts of fascinating topics. You can access this by pressing on the More button on the bottom right of the screen and then choosing The Spark. There are many short podcast-like interviews that are motivational, creative, comforting, humorous, full of wisdom and self-improvement tips. Sparks can be downloaded for offline listening.
Some examples of excellent Sparks include: "Living With Intention – Matthew McConaughey" (Ok, I realize that this is the second time that I mention Matthew… I may have a bit of a crush on him, I will admit), "Building Inner Peace – LeAnn Rimes", or "Financial Intentions – Suze Orman".
Whenever I have a few minutes, say, I'm walking the dog and want to listen to something enriching that is way shorter than a podcast but not as mindless as music, I try to listen to a new Spark.
My Recommendation
After using Calm (mostly to meditate and to listen to the occasional Sleep Story or Spark) every day for nearly a year, I recommend it as part of your daily health and fitness routine. After meditating with Calm, I find myself feeling lighter and less anxious.
I meditate each morning for 10-20 minutes soon after waking up. The deep breathing and the focus on the present moment alleviates feelings of stress. Occasionally during the day, if I feel overwhelmed or cannot concentrate, I will sit down in a quiet place and meditate.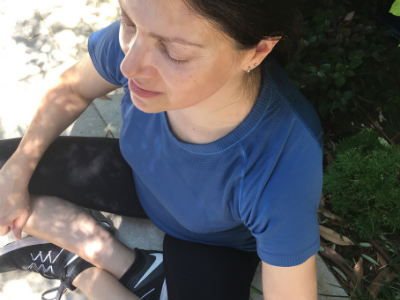 When I first began using Calm, I was using AirPods and after a few months, I upgraded to AirPods Pro. The noise cancellation creates the illusion of a hermetically sealed quietroom of bliss and really enhances my meditation experience!
From my experience, meditating really helps me develop a positive mindset which helps me cope better with life's unexpected sources of stress. And, that's why I recommend you give it a try.
The Calm app is easy to navigate and is full of varied content including many meditation teachers to choose from.
Products that you may be interested in
Please note that this page contains affiliate links. This means that if you purchase from some of these links, we will receive a small commission from the sale at no extra cost to you.