Powerbeats Pro Truly Wireless Earphones are Coming Soon!
Powerbeats Pro – Available this May!
Beats, the developer of premium consumer headphones, earphones and speakers, which is owned by Apple, has announced the new Powerbeats Pro. The Powerbeats Pro are the first truly wireless earphones available from Beats.
High-performance Workout Earphones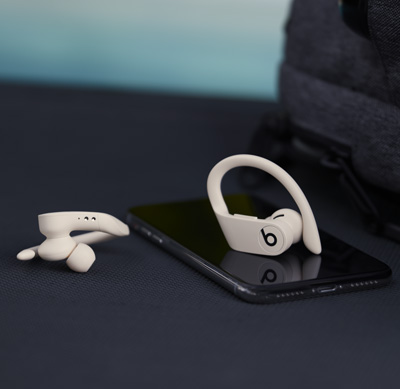 The Powerbeats Pro earphones were designed to be used while working out. The truly wireless design, along with sweat and water resistance, secure-fit earhooks and outstanding battery life make them ideal for those who want to have an amazing workout with a premium listening experience. The streamlined design is 23% smaller and 17% lighter than the Powerbeats 3.
Excellent Battery Life
The Powerbeats Pro provide up to 9 hours of battery life on a single charge. That's enough for the most extreme workout you can think of. When you put them into the convenient charging case, the Fast Fuel charging provides 1.5 hours of additional playback in just 5 minutes. The charging case can provide more than 24 hours of usage on a single charge.
Hey Siri Voice Control
The hands free "Hey Siri" voice control introduced recently on the new AirPods is also available on the Powerbeats Pro. This allows you to control your earphones easily while working out. In addition, they have buttons for volume up / down as well as for answering and declining calls. They are powered by the new Apple H1 chip that provides a fast and extremely stable wireless connection.
What's in the Box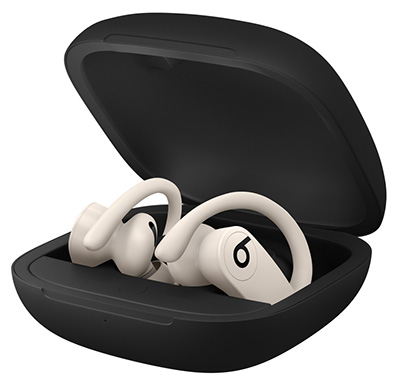 With Powerbeats Pro, you have a choice of four colors – Ivory, Black, Moss (green) and Navy (blue). Along with your totally wireless earphones you get the following:
Charging Case
Four different size ear tips
USB to Lightning charging cable
Powerbeats or New AirPods?
There's really no way to answer this one but here's a summary of the similarities and differences between the two.
What is Similar?
Powerbeats Pro and new AirPods are both truly wireless.
Both use Apple's new H1 chip that provides enhanced performance, faster connections, and extended range.
Both instantly pair with your Apple devices.
Both pause automatically when you take one earbud out of your ear.
Both come with a charging case that can provide you with more than 24 hours of usage.
Both provide hands free "Hey Siri" activation.
What is Different?
What is better about the new AirPods?
The new AirPods and their carrying case are smaller and lighter than the Powerbeats Pro.
The new AirPods are less expensive ($159 or $199 with Wireless Charging Case) than the Powerbeats Pro ($249.95).
The new AirPods have an optional Wireless Charging Case.
What is better about Powerbeats Pro?
The Powerbeats Pro are sweat and water resistant, the new AirPods are not.
The Powerbeats Pro have up to nine hours of listening time while the new AirPods have up to 5 hours.
The Powerbeats Pro have ear clips making them more secure in the ear. The AirPods have no clips although there are 3rd party clips available.
The Powerbeats Pro have four different size ear tips that provide better noise isolation. The AirPods are one size fits all and do not provide noise isolation.
The Powerbeats Pro have Volume and Call Control buttons. The AirPods have no buttons.
When Can I Get Them?
Powerbeats will be available in May, 2019 from apple.com and Apple Stores in the US and more than 20 additional countries. They will be priced at a premium, $249.95 in the US.
Products mentioned in this blog post
Please note that this page contains affiliate links. This means that if you purchase from some of these links, we will receive a small commission from the sale at no extra cost to you.