Apple Watch Series 5 – Why I Got it and First Impressions
Oh, No! I Need to Get a New Apple Watch
I got my first Apple Watch (Series 0) in June 2015, and my Apple Watch Series 3 in January 2018. When the Series 4 came out, I really wanted one. I loved the bigger display, and the Infograph watch face, but there was no way that I could justify getting one just nine months after buying the Series 3. I would wait another two years and get a Series 6 in 2020.
Then one day, out of the blue, in the middle of July, I noticed a small crack around the screen on my Apple Watch Series 3. A few days later it happened – the screen just popped off of the watch. It was connected just by its cable.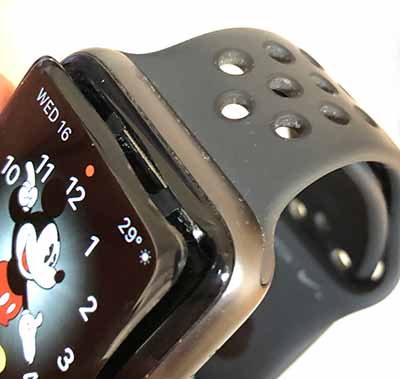 After four years with the Apple Watch, I couldn't imagine not being able to use it. I use it all the time to close my rings, record my workouts, monitor my heart rate, and track my sleep. What was I going to do?
In September, according to the rumors, there would be a new Apple Watch, but it was only the middle of July. Should I just buy the Series 4 that I had really wanted and be done with it?
Which Watch Should I Get?
This was tough. I didn't know for sure that there would be a Series 5 released in September. The rumor mill usually runs rampant in the months between Apple's WWDC (Worldwide Developers Conference) in June, and their highly anticipated product announcement event in September. This year the rumors were very sparse. There were even rumors that there would not be a new Apple Watch this year.
I just wasn't ready to give up on the possibility of getting a Series 5, if there would be one. So – I needed to be resourceful. The Series 3, with its screen that was hanging on by its cable, was actually still working for the most part.
First I used Scotch Tape to hold the screen in place, and after a few days, progressed to black electrical tape that looked better and was more durable. I then found a screen protector that held the screen securely in place.
The screen protector didn't look great, and when I exercised, sweat got in between the screen and the screen protector. This was dangerous, since the moisture could seep into the watch through the cracked screen.
The goal was to keep the watch working until the Series 5 was announced, so I stopped wearing the watch during workouts. By using an external heart rate monitor, I made sure that I continued to get credit toward closing my Exercise and Move Rings, even though I wasn't wearing the watch during workouts. 
The Waiting Game…
Waiting almost two months to find out if there really would be a new Apple Watch and what new features it would have, was not fun for me. During that time I was extra careful with the old watch so that it would continue working for as long as possible, until I got a new one.
As we got closer to September, the rumors about the new iPhones and Apple Watch started to fly, but the truth is, there really wasn't much being said about the new Apple Watch. We heard about new cases – a titanium one and a white ceramic one. Were these new options for the Series 4, or were they new models of the Series 5?
Finally on August 29, Apple sent out the invitation to the Special Event that would take place on September 10th. A few days later there was a new rumor that everyone was talking about. There would be a new Apple Watch and it would have a feature that many had been waiting for – built-in Sleep Tracking.
Would the built-in Sleep Tracking work on the Series 4 or older Apple Watches, or would it be exclusive to the possibly new Apple Watch Series 5? According to the rumor mill, you could use two Apple Watches and have one designated as the one that you'd wear for sleep tracking.
Was this a ploy to get people to buy a second Apple Watch? We'd just have to wait another week and see what the real story was. There was still no official confirmation that a new watch would be announced.
The Waiting is Over – Apple's Special Event is Here
With great anticipation, September 10th arrived. Usually all major features that are introduced on new iPhones and Apple Watches are leaked in advance. However, for the first time in a long time, the most significant new feature of the Apple Watch Series 5 was kept completely under wraps until it was announced at the Apple Special Event.
Everyone was taken completely by surprise when the always-on display was announced. The biggest rumor, that there would be built-in Sleep Tracking, turned out to be fake news. 
Now there were new questions. Was the always-on display really an innovation, and was it really necessary? How would it affect the battery life? Does it pay to upgrade?
Who Needs an Always-On Display?
With previous models of the Apple Watch, when you lowered your wrist, the display would turn off. On the Apple Watch Series 5, the display is always on and the watch face is always visible. Instead of turning off, the display simply dims, but the watch face and complications are still visible. This is done while maintaining the same 18 hour battery life that the Series 4 had.
Having used the Apple Watch for more than four years, I definitely got used to the display turning off, and having to do the wrist flick, or tap the display in order to see it. I never felt it was a big deal, although on occasion when my hands were not free, I admit to using my nose to tap the display. 
The truth is, on the existing Apple Watches, the display turns on when you want to see it, so why does it matter if it's not always on? I didn't see a major need for this, but it was something that many people were asking for.
Even though I haven't completely lost the flick-the-wrist instinct, I'm paying attention to how often I just look at the watch and see the time, without making any special effort. It's actually nice to see the time by glancing at my watch while typing on the computer.
It's very useful during a workout, where you can't necessarily rotate your wrist to turn the display on, and you don't always have a hand free to tap it. In the Workout app when the display dims you can still see all of the workout metrics.
After getting used to it, the always-on display is a game-changer. I've been using the new Apple Watch for a couple of weeks, and paying attention to how often I glance at it without turning it on. I find it really convenient, since I can see the time as well as the complications, without making any unnatural movements.
This eliminates some potentially embarrassing situations as it allows you to discreetly check the time without being too obvious. As Tim Cook said, "you can now use your watch to tell time". This is actually quite useful.
What Am I Loving About the Apple Watch Series 5?
Since I upgraded from a Series 3, and never experienced the Series 4, I am really enjoying the larger screen (I have the 44 mm model), in addition to the always-on display, and the watch faces that are only available on the Series 4 and 5.
I love the Infograph watch face with its 8 complications. I use it with the following complications: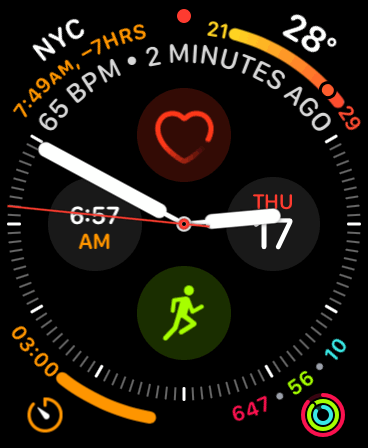 Corner Complications
World Clock – shows the time in a different time zone.
Temperature – shows the current temperature and the low and high for today.
Activity – shows the activity rings and their values.
Timer – when the timer is active it shows the time left and a progress bar.
Watch face Complications
Heart Rate – shows the last heart rate measurement and when it was taken.
Date / Day – shows the day of the month and the day of the week.
Workout – allows immediate launching of the Workout app.
Alarm – shows me when my next alarm is, or if there's a snoozed alarm, how much time is left.
I can launch any of the above apps by tapping on their complications. This turns the Infograph watch face into a mini app launcher for 8 apps that I frequently use.
Besides the Infograph watch face, I love using some of the other more elegant watch faces when I want to take a break from information overload.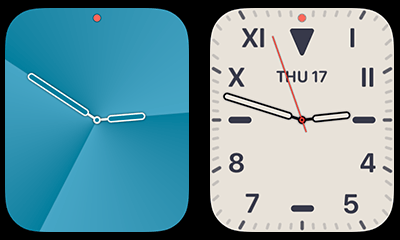 I use the stunning Gradient watch face in Full Screen mode, with no complications, or the very cool new California watch face in full screen mode with the California style that mixes the Roman and Arabic (regular) numbers on the watch face. I use the day / date complication on that watch face.
My Recommendations
If you don't have an Apple Watch, I'd recommend getting the Series 5. It's the latest and greatest and you won't be sorry.
If you have an Apple Watch Series 3 or earlier, and you're ready for an upgrade, the Apple Watch Series 5 is waiting for you. You'll love the new screen, and the always-on display.
If you have an Apple Watch Series 4, you've got a tough choice to make. The most compelling reason to buy a Series 5 if you already have a Series 4, is that you have been waiting (probably impatiently) for the Always-On display. If there are other new features that are appealing, and you like the idea of the Always-On display, then just do it. You will love it.
If you want any of the new case options – Titanium, Ceramic or Hermes Space Black, then you'll need to buy the Series 5.
What Should I Do With My Old Apple Watch?
If you've decided to take the plunge, then perhaps you have someone who you can pass your Series 4 on to – a spouse, child, parent, or a really special friend. That's a great way to justify getting yourself a new Series 5.
You can always sell it, or trade it in. Apple offers up to $110 for a trade-in on the Series 4. Before you do that, check out the Cult of Mac trade-in program, where you can get up to $240 for an Apple Watch Series 4.
Products that you may be interested in
Please note that this page contains affiliate links. This means that if you purchase from some of these links, we will receive a small commission from the sale at no extra cost to you.