Apple Watch Activity Awards: All You Need to Know
Awards and Challenges in the Activity App
Great news to share! I recently received the 500 Move Goals Activity Award. This is awarded for closing your Move Ring 500 times. The reason this is a big deal is because it took me almost four years to get this award. This means that since I started to use an Apple Watch, I've closed my Move Ring approximately one out of every three days. Just so I don't mislead anybody, my daily Move goal is 750 Calories.
The next Move Goal activity award is 1000 days. I'm hoping that I'll get the next 500 done faster than the first 500. My goal is to get the 1000 Move Goal Activity Award by the end of 2021, which is less than 1000 days away. This means that I'll need to close my Move Ring more than 50% of the days.
About Motivation and Accountability
An important part of achieving your fitness goals is motivation. One of the best ways to be motivated is to have an accountability partner. If you're using the Apple Watch, it can be your accountability partner and motivate you to improve your fitness.
If you're an Apple Watch user, you are motivated to be active by trying to close your Activity Rings each day. In addition to the motivation of closing your Activity Rings, you are encouraged by receiving Notifications on your iPhone and Apple Watch, as well as Awards on the iPhone.
Activity Notifications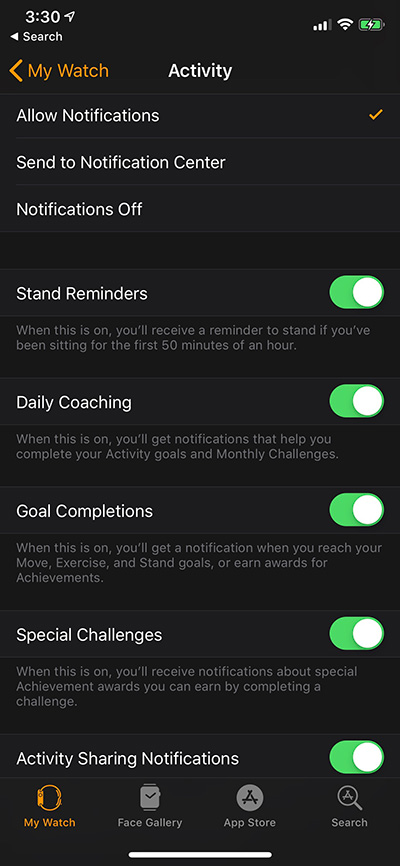 In the Activity section of the Watch app on the iPhone, you can choose Allow Notifications. If you do this, you can then specify which types of notifications you want to receive from the Activity app. These notifications will actively remind you to complete certain goals and compete in challenges that will help push your daily activity to a higher level.
Stand Reminders
If you enable Stand Reminders, you'll get a reminder to stand if you haven't stood in the first 50 minutes of any hour. This gives you the opportunity to earn the stand hour before the hour is over, and will help you close your Stand Ring each day.
Daily Coaching
When you enable Daily Coaching, you'll get notifications that will help you complete your Daily Activity Goals as well as Monthly Challenges. These notifications will let you know what you need to do in order to achieve your daily goal. This is done early enough in the day so that you have the opportunity to complete the goal before the end of the day.
Goal Completions
When Goal Completions is enabled, you'll get notified when you complete a goal or earn an award. Apple Watch users get a lot of satisfaction from completing goals and earning awards. The animated graphics of these notifications make it that much more satisfying to achieve your goals.
Special Challenges
When you enable the Special Challenges notification, you'll be notified about Special Achievement awards that you can earn when you complete a challenge. There are many different challenges that you can complete in order to earn Special Achievement awards.
Activity Sharing Notifications
When Activity Sharing Notifications is enabled, you'll get a notification when someone who shares Activity with you closes all three Activity rings, finishes a workout, or earns an award.
Awards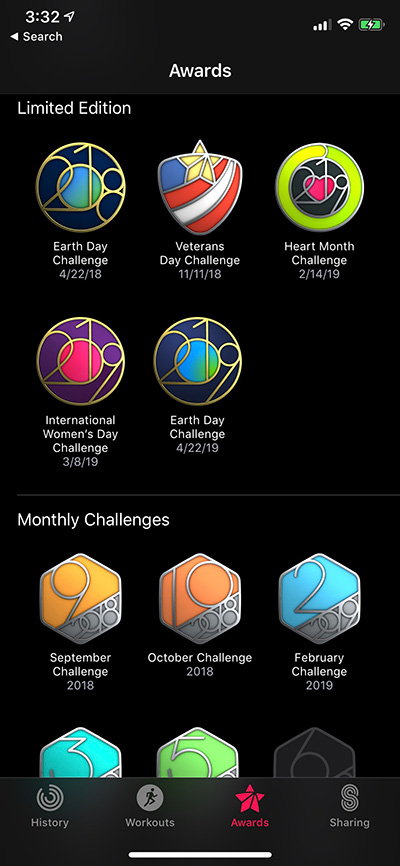 In the Activity app on the iPhone, tap Awards at the bottom of the screen. In the Awards view you will see all of the Awards that can be received. Awards that have already been received are shown in color, and those that haven't yet been earned are shown in grey. Certain awards can be received more than once. New awards that you have received and haven't seen yet have a blue dot under them.
Tapping on an award that you have already achieved provides you with an explanation of the award, and the date that it was awarded. Swipe on the award and you'll see your personal engraving etched on the back of the award. Tapping on an award that you have not yet achieved gives you an explanation of the award.
Monthly Challenges are personalized based on your previous level of activity. Each month, a new challenge will be created specifically for you based on what you have achieved in previous months. The monthly challenges encourage you to improve one of your metrics compared to the previous month.
Limited Edition Challenges are offered on special occasions, such as holidays or other events that occur during the year. Some examples are:
Earth Day Challenge – Complete a workout of 30 minutes or more on Earth Day.
International Women's Day Challenge – Complete a walk, run or wheelchair workout of at least a mile on International Women's Day.
Heart Month Challenge – Earn this award by closing your Exercise Ring seven days in a row, from February 8 to February 14. If you do this, you'll earn the award on Valentine's day. ❤️💘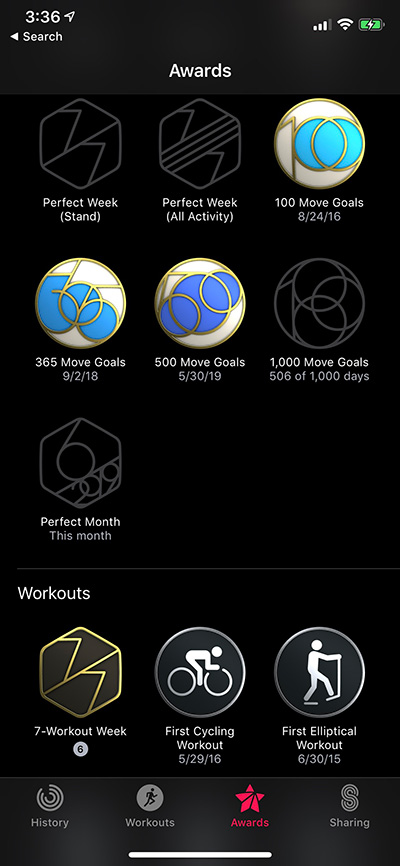 Close Your Ring awards are achieved for different achievements that are related to your Activity Rings. There are awards for New Move Record, New Exercise Record, and for 100 / 365 / 500 / 1000 Move Goals. Notice that there are many other awards available.
Workouts awards are received when you set a new record for calories burned in a specific type of workout. You also get an award the first time that you do a workout type that you've never done before.
In the Workouts section, there is also an award that you receive when you have a 7-Workout Week. This is done by completing a workout of at least 15 minutes, each day of the week, from Monday to Sunday. Each time you do this, the number of times you've done it is shown below the award.
Challenges
It is a good idea to check out the Awards view in the Activity app from time to time. You can see what awards you've earned as well as which awards you are getting close to earning. In the Go For It section you can see upcoming Limited Edition Challenges that are released by Apple from time to time, as well as Monthly Challenges.
How Competitive Are You?
It's all about motivation! Please share the Activity Award that you're most proud of in the comments below, and motivate others to achieve more awards and become more fit.
How Can I Learn More About the Activity App?
If you're new to the Activity app, check out: Getting Started with the Activity App.
For an in-depth guide to the Activity App, check out: Inside the Activity App
Products that you may be interested in
Please note that this page contains affiliate links. This means that if you purchase from some of these links, we will receive a small commission from the sale at no extra cost to you.