Apple Fitness+ New Features: Collections, Time to Run and More
Apple Fitness+ New Features
Apple continues to enhance Apple Fitness+ with new features as well as additional guests. On January 10th, Apple is introducing the new Collections feature in addition to Time to Run. A new season of Time to Walk is being launched and more artists are being added in the Artist Spotlight section.
Apple Fitness+ Collections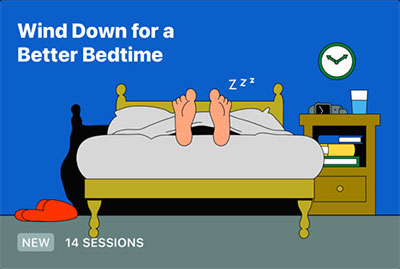 The new Collections feature provides a curated series of workouts and meditations from the Fitness+ library that have been organized to help users with a specific goal in mind.
The following collections will be available tomorrow:
30-Day Core Challenge
Improve Your Posture with Pilates
Perfect Your Yoga Balance Poses
Run Your First 5K
Strengthen Your Back, Stretch Your Hips
Wind Down for a Better Bedtime
Time to Run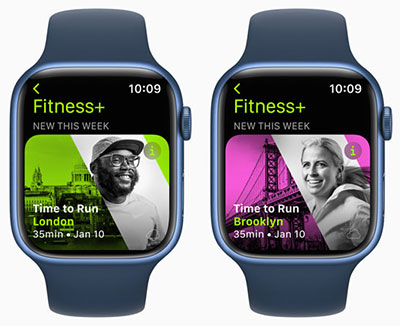 In addition to the existing Time to Walk workouts, Apple is now adding Time to Run, with each episode focusing on a popular running route in a different city. Each episode includes inspiring coaching tips from one of the Fitness+ trainers including a new running trainer – Cory Wharton-Malcom.
Time to Run will launch with the following three episodes:
London, coached by Cory Wharton-Malcom
Brooklyn, coached by Emily Fayette
Miami, coached by Sam Sanchez
New episodes of Time to Run will be released every Monday.
Time to Walk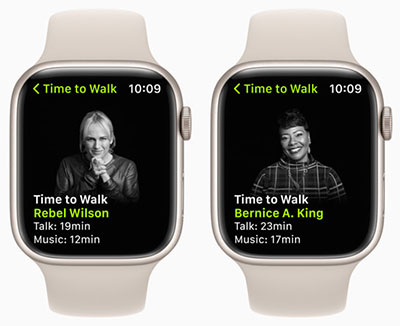 Apple will also be releasing a third season of Time to Walk featuring guests including: Rebel Willson, Bernice A. King, Hasan Minhaj, Chris Meloni, Ayo Tometi, Chelsea Handler and Sugar Ray Leonard. New episodes will be released every Monday.
Artist Spotlight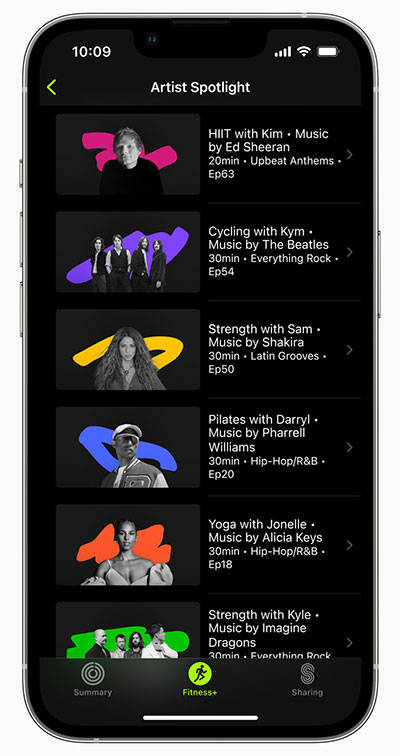 The popular Artist Spotlight series that features playlists from some of today's most prominent singers, is being expanded with some new artists including Ed Sheeran, Pharell Williams, Shakira and the Beatles.
Each workout in this series has a playlist comprised of songs from one of these well known artists. Every Monday, for the next four weeks, new workouts featuring music by each of these artists will be released.
Conclusion
Apple is not resting on its laurels. Despite Apple Fitness+ being a leading fitness and wellness platform, Apple continues to add new features, enhance existing features, and expand the list of guest artists and celebrity guests.
Anyone with an Apple Watch can get a free one month trial to Apple Fitness+, and if you have recently purchased a new Apple Watch, you can get a three month free trial.
Products that you may be interested in
Please note that this page contains affiliate links. This means that if you purchase from some of these links, we will receive a small commission from the sale at no extra cost to you.