Apple Celebrates Heart Month in February 2022
Heart Month at Apple
Apple continues to focus on health and fitness, and this year has broadened their offerings. They have added custom compilations across Apple Fitness+, the App Store, the Apple TV app, Apple Podcasts and Apple Books as their way of bringing awareness to Heart Month.
This encourages people of all ages to use Apple's products and services to learn more about staying healthy – and have fun along the way.
Heart Month Activity Challenge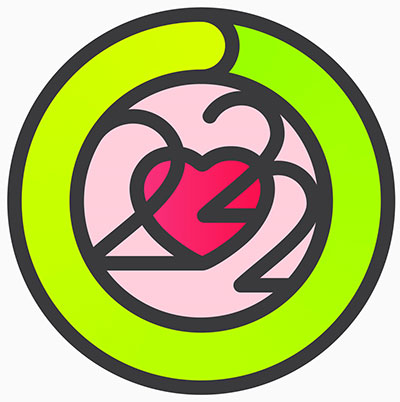 As Apple has done for several years now, there is a Heart Month Challenge that can be completed by doing 30 minutes of exercise on the Exercise ring on February 14th.
Energizing Workouts for Heart Month in Apple Fitness+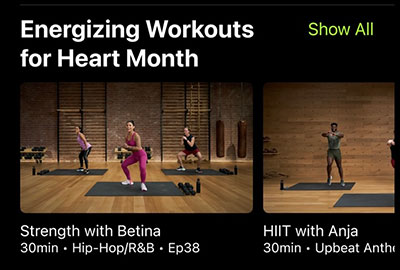 On February 14th a series of workouts called Energizing Workouts for Heart Month will be available in Apple Fitness+.
This section will feature a series of 30 minute energizing workouts that will help motivate Apple Watch users to close their Exercise Ring more often.
Featured Apps in the App Store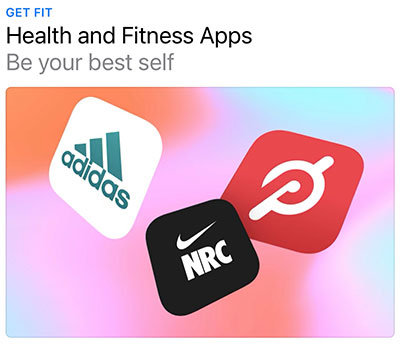 During the month of February, the App Store will have a collection of apps that are focused on cardiovascular health. These apps will empower users to improve their fitness and wellness by using customized workouts, monitoring heart rate metrics and tracking other health data.
Heart Health in Apple Books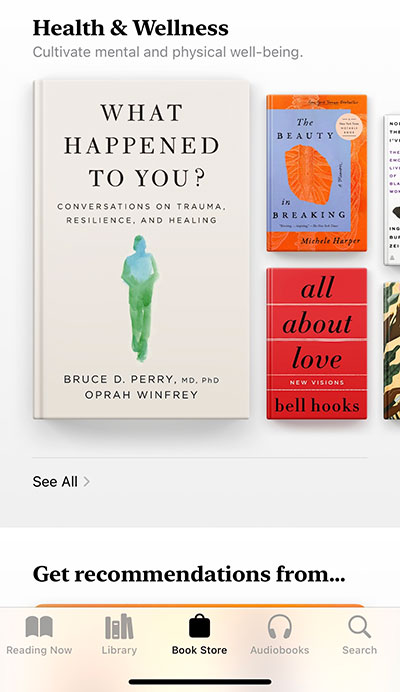 Apple Books is offering a collection of books that focus on heart health, heart science, emotional well-being and healthy living.
Heart Healthy Podcasts in Apple Podcasts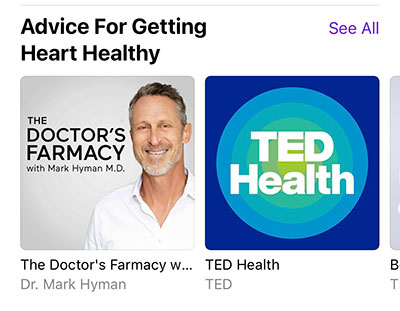 In the Podcasts app, listeners can find a curated group of popular podcasts in the Advice For Getting Heart Healthy section on the Browse tab.
These podcasts feature medical experts that help listeners learn more about their health and the steps they can take to improve overall fitness, mindfulness and well-being.
Apple TV
This month the Apple TV app is featuring a collection of movies and shows on heart disease, heart science and healthy living.
Extra Savings on Apple Watch Trade-ins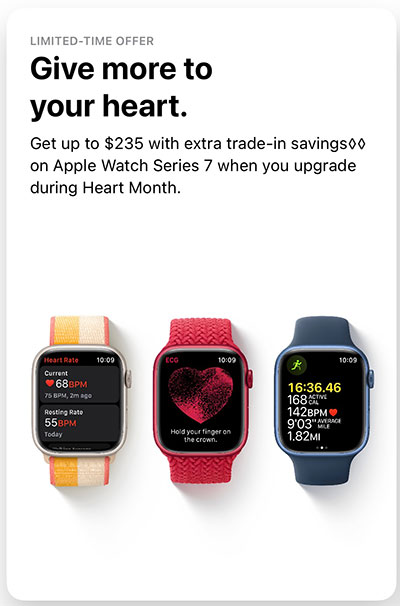 Are you looking to upgrade your Apple Watch to a new Apple Watch Series 7?
During Heart Month, Apple is offering extra savings of $25 on trade-ins. You can get up to $235 for a Series 6, $170 for a Series 5, $160 for an SE and $130 for a Series 4.
This offer is available in the US, Canada, the UK, Italy, Spain, Germany, and the UAE.
Apple Heart Studies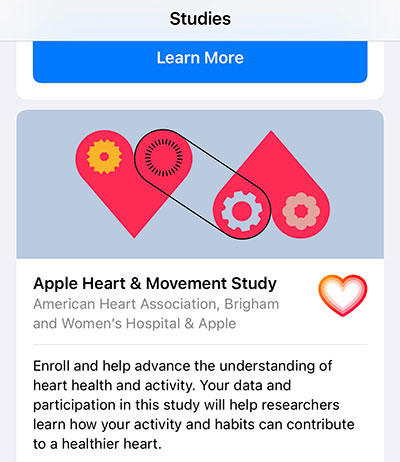 Apple has several heart related studies that you can participate in by downloading the Research app from the App Store. You can learn more about the following heart related studies:
Apple Heart and Movement Study
This study is done together with Brigham and Women's Hospital and the American Heart Association. The Apple Heart and Movement Study explores the link between physical activity and heart health. The Study is designed to identify factors affecting heart health, mobility, and heart function over time.
Heartline Study
This study aims to assess whether Johnson & Johnson's Heartline™ Study app on iPhone, together with the ECG app and irregular rhythm notification feature on Apple Watch, can reduce the likelihood of stroke and improve health outcomes with earlier detection of atrial fibrillation.
University Health Network's Heart Failure Study
Apple, together with University Health Network (UHN) has created a study to help patients manage their heart failure with the goal of having better clinical outcomes for heart failure patients.
The study uses physiological information collected by the Apple Watch, including heart rate and blood oxygen levels to assess the patient's condition from the comfort of their own home, reducing the need for assessment that would need to be done in a clinic.
UHN is a health care and medical research organization located in Toronto, Canada.
Conclusion
By creating awareness during Heart Month, Apple is encouraging us to take steps to improve our heart health.
The Apple Watch provides us with many ways to track and improve our heart health and as a result we can reduce our risk of heart disease and other diseases. By doing this we can increase our life expectancy and our quality of life as we get older.
You're never too old, and it's never too late. Today is the best time to start your journey to a healthier heart and a healthier life.
Products that you may be interested in
Please note that this page contains affiliate links. This means that if you purchase from some of these links, we will receive a small commission from the sale at no extra cost to you.